Mandiri beach surf break South Sumatra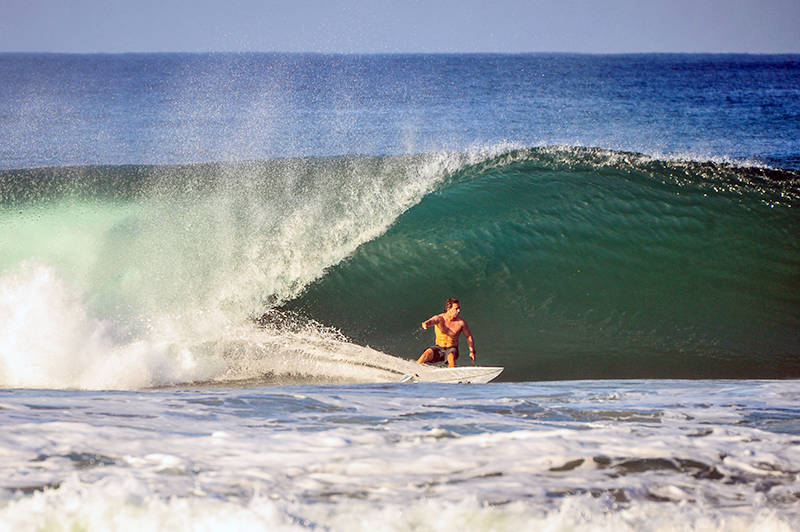 | | |
| --- | --- |
| Location: | 15 min NW of Tanjung Setia Sumatra |
| Access: | Paddle out. |
| Best Wind: | N to E |
| Best Swell: | S to SW |
| Dangers: | Strong rips |
| Crowd: | 10 to 20 on a peak |
| Recent Info: | Coastal erosion since 2017 |
General surf information
Mandiri is a 7km long south west facing beach, most of the time it is a poor quality beach break you could find anywhere in the world. Sometimes Feb to May and Nov to Jan it can be exceptional, then you can expect board breaking heavy 1.8 mtr plus perfect peaks with spitting barrels only for the experienced.
Most people surf the peaks near the local warungs but thats just because its easy to park your scooter. There are often better peaks to the south and at the north end of the beach towards Lintik.
Mandiri is best surfed Feb to May when off-shore winds prevail, winds can also be favorable November to January.
June to October howling cross and on-shore winds are common and Mandiri Beach is an out of control mess, you might be lucky and score 1 clean morning a week but don't count on it.
If your plan was to only surf Mandiri Beach then you could have a very disappointing surf trip.
Directions
From Krui head South, in about 25 min you will begin to see the coast through the coconut palms, there are a number of Warungs where you can have a drink or meal. From Tanjung Setia head North for 15 min.
Paddling out
On bigger days timing is everything, the rip here can quickly drag you 500 mtrs down the beach and boards get broken just paddling out.

When the rivers are flowing do not surf near the river mouths as there are dangerous crocodiles in the rivers and have been seen out in the salt waters.