Ujung Bocur surf break South Sumatra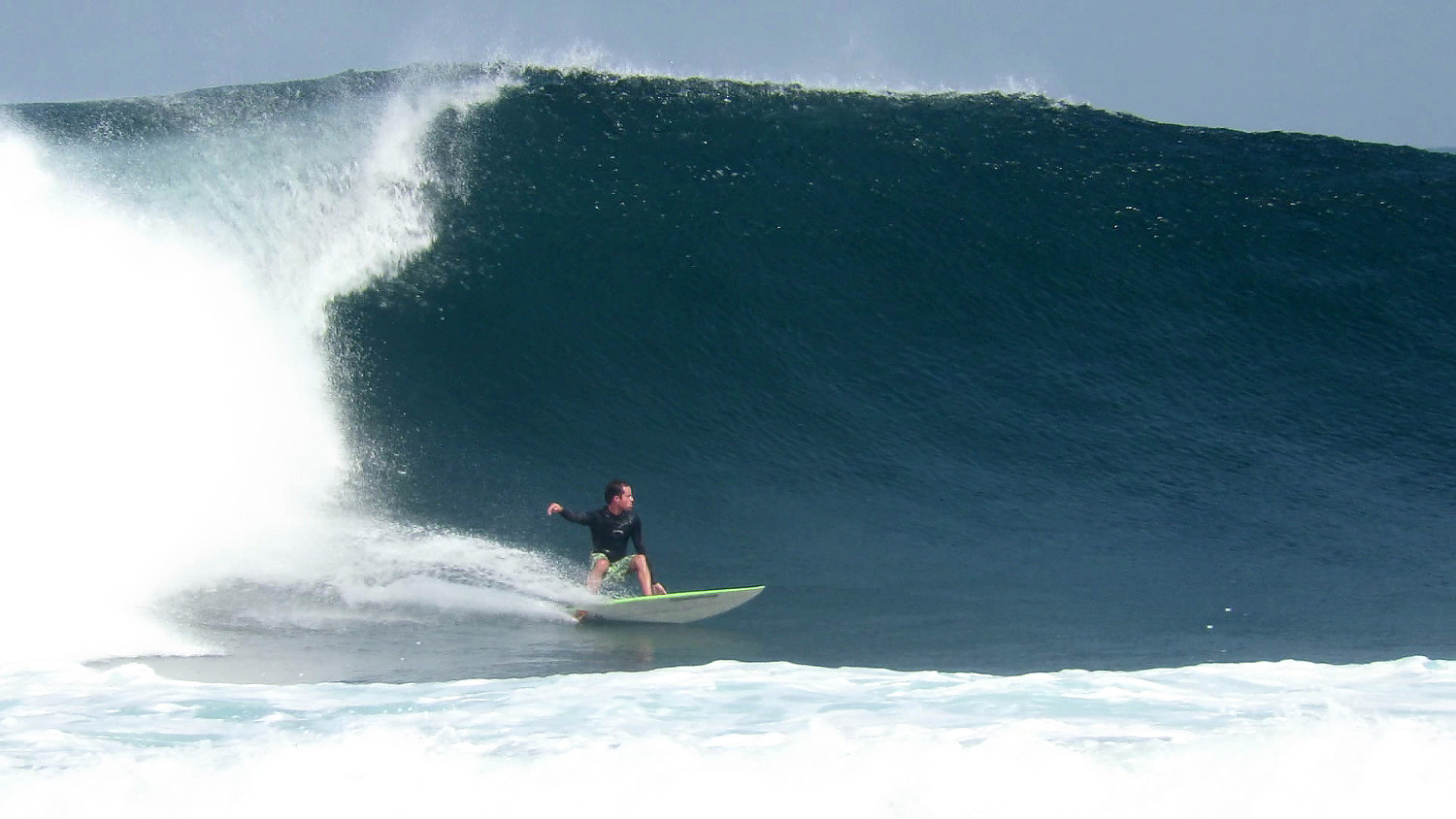 Also known as Karang Nyimbur or The Point it's the most consistent wave in the area and there is always a wave of some description at this surf spot. On the best days it's 150 meters long with wally carving sections and the very odd shallow barrel. Depending on the day Ujung Bocur has 2 to 3 sections and takeoff zones all seperated with a possible pulloff point. You can choose to surf the section that suits your skill level.
Unfortunately this wave is very fickle. Most of the time it breaks wide, sections and can't handle a swell over 2.2 mtrs. On average 1 in 4 swells will be favourable for this break. On a trip less than 6 weeks you may never see this break linned up well and you may need to wait months to see Ujung Bocur excellent.
"I really wanted to surf the Point when it was perfect."
~ commonly heard from departing surfers

Rating:

★★★

★★

Quality:
Excellent but seldom World Class
Wave Type:
Reef
Direction:
Left
Best Wind:
NE to SE
Best Swell:
S to SW
Best Tide:
Incoming or Outgoing - Mid Tide
Access:
Paddle out
Crowd:
15 to 25 off season 30 to 60 in season
Dangers:
Shallow reef, sea urchins, dropins
Vibe in the water
Gird your loins !
The Tanjung Setia surf community is not willing to lay down the rules for fear of pissing off their clientele so surf etiquette is almost non existent at Ujung Bocur. No matter what the swell size you will have to compete for waves and endure some of the worst behaviour in the water.
When the swell is small and under 2 mtrs you can enjoy crowds of 25 to 60, inexperienced surfers ditching their boards in front of you and others staring you right in the eye as they snake you or drop in.
Paddling out
There are two main places to paddle out, best place depends on swell size, tide & current.
North side of reef
There is a small channel on the north side of the reef and this seems to be the most popular way out for visiting surfers. However if you drift or are washed out of the channel you will be in for a long hard paddle and risk being washed into a nasty reef area.
South side of the breaks outside section
This route is used by many locals and as long as the swell is not huge it only requires good timing to get off the reef and into deeper water. On most days this is the easiest route.

Watch others to see how successful they are. If local surfer and surf photographer Nana Gapero is there he is a good person to ask for advice.